Your blog is one of the most powerful tools your business has to engage with people. It can create value by providing great content that benefits your business and customers alike
Getting more traffic to your blog is the first step to boosting conversions. However, it's not as simple as creating a blog and publishing a few posts. You need to do more to boost traffic enough to make a difference.
There are many things you can do to tweak your blog to bring in more traffic. Let's break down the different ways you can make changes to your blog that powers traffic and boosts conversions.
Post Content Regularly
People are looking for resources that provide information that truly helps them. They will subscribe to a blog especially when it provides regular and valuable content.
It's necessary to be proactive when it comes to creating content for your blog. Writing once in a while or when you're in the mood is not going to help your blog grow.
A great way to stay on top of your content is to create a content calendar. Having a plan and fixed dates for creating content creates a 'to-do' list that's compelling.
Posting content on a daily or weekly basis is the top priority for any blog.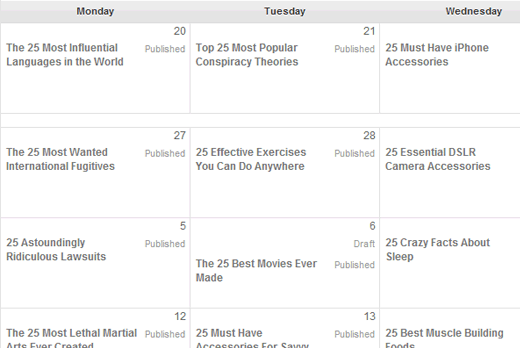 A content calendar will help you produce content on time for your blog. It will help you keep track of what you've written. You'll also cover relevant points and topics for your audience.
Content planning allows you to plan for important holidays and seasonal events. By creating regular content, you'll help your blog boost traffic.
Create an Opt-in Form
Even though your website may have content that is attractive to your users, there are many reasons why they may leave your blog. They may be looking for other information but intend to remember your site. But once they leave your blog, there's a strong likelihood they can forget about it and never come back to your site.
A great way to circumvent such events is to create opt-in tools that capture your visitors' emails.
An opt-in form can be a popup, an inline element on your site or a fullscreen popup. Optin forms can come in many varieties and are often mobile responsive too.
An opt-in form can be triggered to appear just when your reader is about to leave the site. This is an exit-intent feature that captures emails when people are about to leave your site.
You can make people pause just as they're hitting the close or back button. There are many ways to optimize your opt-in forms.
Create a compelling headline that gives users a reason to sign up as a subscriber. Try to describe a specific benefit the subscriber can get instead of saying something like 'Sign up for more information'.
Offer a lead magnet. A lead magnet is a free gift that you give to users for signing up with your site. It can be a free eBook, a checklist, or some other helpful item. Visitors will find it worthwhile to submit their email for a useful lead magnet.
Add social media share buttons to your opt-in pages. It's helpful to give users more actions they can carry out to share your content. Adding share and like buttons on your opt-in pages is a useful way to make your content reach more people.
Add opt-in elements in several places on your blog. Inline opt-in forms are unintrusive and do not irritate your readers.
Once you have your visitors' email addresses, you can send them emails with offers and other content. You'll remind users about your site and drive them to your blog.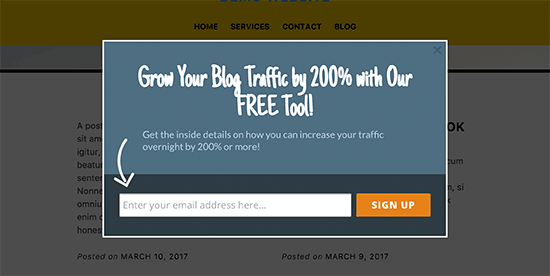 Adding share options means that you'll get more visitors from social media and this will boost traffic. Building and segmenting your email list is one of the most important things you can do for your blog. You'll drive conversions and traffic with your email marketing campaign.
Boost Your Blog on Social Media
It's a given that social media is important for your business to grow. Social media is where billions of people go to consume content and connect with people. It's also a place where they connect with businesses.
You can leverage these platforms to connect with your audience. Post your blog content and build a following on social media.
Creating a loyal and invested base of followers will help grow your brand. Ensure that you post different formats such as images and videos. You can also add polls and other interactive content to create engagement.
Varied and interesting content will make your blog memorable and drive people to visit your blog.
Add User-Generated Content With Forms
User-generated content is the most impactful content you can add to your blog today. People trust the content that's written by their peers because there isn't an agenda behind it.
User-generated content is great for your blog because it's free and builds trust fast. You'll find such content from reviews, content, social media shares and other blog posts.
It's easy to generate content from visitors by using forms on your blog. If your blog is built on WordPress, you can simply download a form plugin that lets users submit content to your blog.
You will drive more traffic to your blog by allowing people to create content for you. It shows that you value their opinion and are giving them a platform for their voices to be heard.
Did I already mention that it's free?
You'll save time and effort by getting other people to create content for you that boosts traffic.
Build an Online Community Around Your Blog
An online community based on your blog can give you the momentum to push your blog's growth. An online community can be your greatest asset. There are many benefits that it can bring to your blog:
You'll have readers who look forward to your content
The community will be more active, leaving comments and creating discussions
They will share your posts and build your community
Your community will send more leads and traffic to your blog
You'll have a vibrant community discussions
Creating an online community for your blog is possible with a membership site plugin. Using membership tools makes it possible for anyone to power online communities without having technical skills. It can also be another source for user-generated content that answers your audience's questions.
Build your online community for steady traffic and continuous growth. It's helpful to use the multiple strategies mentioned here to ensure that your blog grows. You'll be able to build traffic and get a loyal readership base for your blog.
Man standing arrow increase – DepositPhotos