What if I told you delegating work to your team could be easier if you just had the right tools to declutter your workflow? Organizing tasks and managing teams are some of the most cumbersome jobs for a leader. To help you plan out the goals, set deadlines, visualize plans, and define priorities the following project management software could help you effectively organize and personalize the way you conduct business.
1. ProofHub
It does the work for you by replacing numerous software that are being used for organizing data such as FreshBooks, Dropbox, Google Drive, etc.
ProofHub has an easy to use interface that allows you to set priorities and work with all the resources.
You can upload and import files and documents and attach them with task cards.
Put labels on various task cards to define priority and category.
You can manage people working under a project and address them at the same time.
People can be easily assigned to various projects, tasks, and subtasks at once.
Add notes to tasks and provide descriptions just the way you want so as to organize all the data in one place.
You get to view all the tasks through many types of filters. Set subtasks and deadlines and sort them corresponding to due dates.
ProofHub allows you a calendar view to organize every task against their due dates.
Also, it helps you in organizing teams and data using Kanban boards and Gantt charts.
2. Microsoft Project
This is a project management software that allows you to store multiple versions of files and documents.
With Microsoft Project, you get to sort all your files and find them using different filters.
Organizing is easy because you can sort multiple columns at the same time.
This software helps you set summary tasks as well as subtasks to make working and task assigning easier.
Also, a great feature of Microsoft Project is that it allows you to limit access to a certain file or document to a specific group of people.
It is a software that allows you to set categories and sort files corresponding to their date, type, name, date modified.
3. Jira
Jira is a very helpful software when it comes to the process of project execution.
It helps you in effectively tracking time and also the progress of the team.
It helps you easily create a custom workflow that can be modified and narrowed down by applying several filters.
It also allows you to organize various documents corresponding to date, type, name and time.
This software helps you set deadlines, due dates, events, and milestones.
In fact, with Jira Core, you get to work with personalized dashboards which allows you to look at the big picture and visualize goals that have to be accomplished.
You can also jot down meeting notes using this task management software.
And, it allows you to upload doc files with ease which can be stored there for any member of your team to see.
4. Celoxis
It is a project management software that allows you to create, personalize and share custom and comprehensive dashboards.
It helps you build plans in an organized way and set priorities as per your workflow.
Establish a workflow and easily set dependencies.
Celoxis is also useful because it has a customizable client portal where the clients can organize information in whatever way they want.
It is also a great software because it helps calculate estimates for the data that has been organized in the plans.
Celoxis gives you the liberty to visualize data in your own way by providing them the ability to modify the interface.
You can also organize people and their related data for the hiring process easily.
You can also schedule sending reports to your boss with the utmost ease.
5. Trello
Trello is the best project management software when your primary goal is to stay organized.
The interface is different from any other software because most parts adapt to any purpose or business that your team is working towards.
This is a software that helps you visualize, plan and sort out what you want from your project with the help of making comprehensive Gantt charts.
Kanban boards are also a big help in which you get to work with the easy to manage task cards.
In fact, with the presence of Trello cards you comment, discuss and collaborate with your team in real-time.
Trello facilitates an easy to use interface with cards, lists, and boards.
Therefore it is very easy to plan priorities and milestones with Trello.
6. Zoho Projects
Organizing with Zoho Projects is easy because it is a software that allows you to create folders and sub-folders, and also sort and organize them however required.
Folders can be stored using numerous filters. In fact, you can use the favorite option to label a folder so as to make it more accessible to you whenever you want to use it.
There are many ways and filters to narrow down the search for a specific folder.
Zoho Projects is a cloud-based project management tool that allows you to store all the files and documents in the cloud where it is easy to access from any device.
With this project management software, you get to assign work with ease.
Easily view and manage resources using Zoho.
IT helps you in organizing the task details and facilitates effective collaboration.
the deadlines because you will find everything on time.
Customize your data and reorganize it however you want by renaming and modifying the date, name, and types of folders.
7. Scoro
Scoro is helpful software that helps in planning, scheduling, organizing, setting priorities
You also get to categorize your teams and track their progress and time taken effectively.
With Scoro you will find that all the work can be done and stored in one place.
This task management software allows you to be on the same page with your whole team. Break down projects by dividing them corresponding to date time, priority, etc.
With Scoro you get to effectively manage a team and address them under one label.
Store spreadsheets and reports so that they can all be accessed by your team in one place.
Limit access to files from certain teams or people with ease.
Therefore use Scoro if you want to see or Documents and tasks presented in a structured way.
8. Toggl Plan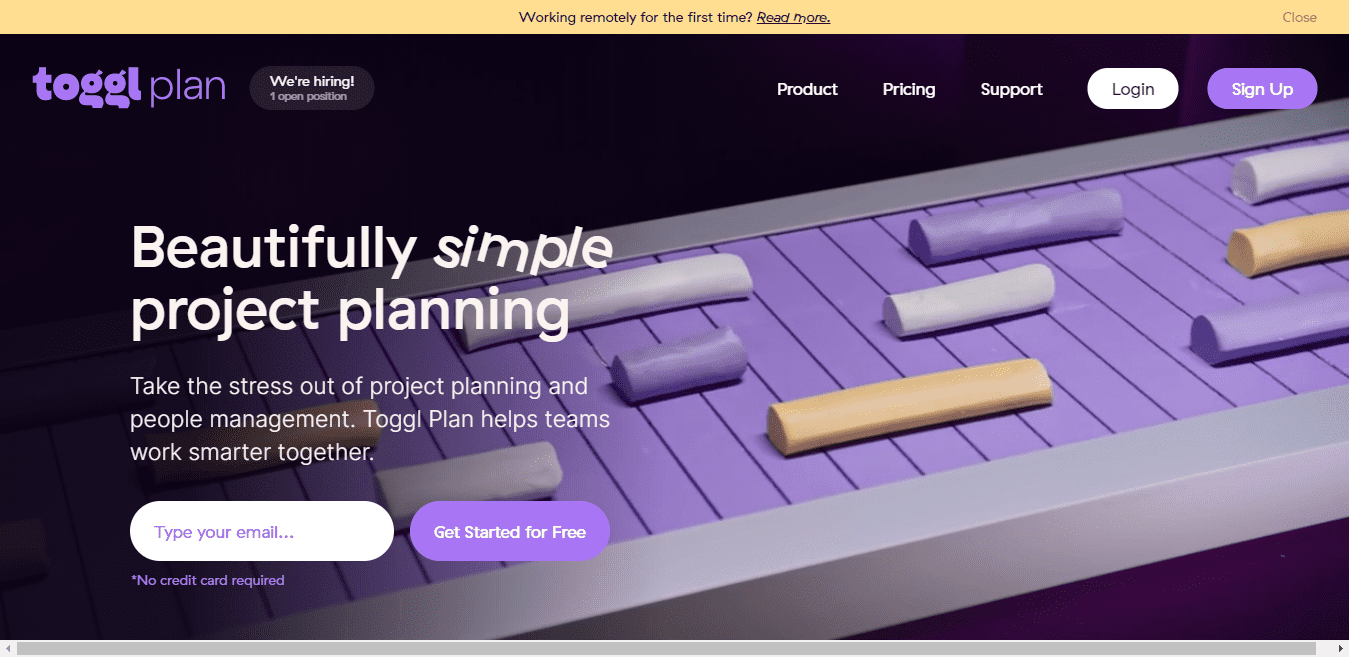 Toggl Plan is a project management software that is free for a team that has fewer than 5 people or is working for a non-profit.
It helps you effectively manage your team by allowing you to make smaller, manageable groups.
Every task card and task description is color-coded so that the content becomes easy to understand and hence easy to use.
This software allows you to import tasks from anywhere like Dropbox, Google Drive, etc.
It has an easy to use interface with drag and drop feature for task cards.
Toggl Pla is a software that allows you to create and hence view structured content.
It helps you effectively save time and makes tracking projects easy.
9. Monday.com
Monday.com is an easy to use project management software where you can store all files and provide access to multiple people so they can work on them and give reviews.
It is a software that helps you work on projects and tasks in a very visual manner.
Personalize the visual landscape with some of the best features a project management tool could have and make the software completely your own.
With Monday.com you get to define priorities in a more comprehensive way and also easily set deadlines.
Also, you get to view tasks and project status with the utmost ease with this software.
Assigning tasks is also easier with the comprehensive way in which this software displays information.
In fact, with Monday.com you get to do your work with many templates to choose from.
Create a bird's eye view of the project goal and provide direction to tasks by creating an organized workflow.
10. Tracklify.com
Tracklify.com makes a bet on full management automation which allows users to minimize the number of clicks and follow agile management using preconfigured "smart" rules sets.
The automation system works both for individuals and large teams.
The most interesting feature is that system seamlessly integrates the Time tracker with the Kanban board so you can not only keep things organized but also see transparent reports on each task when you need it.
Also, Tracklify provides an asynchronous chat for every task to discuss details or ask questions without bothering team members and at the same time ensuring they will respond to tasks as soon as it is possible.
Basing on tracked time you can get reports with the total time spent for a defined period for a project or a user.
You can also convert any report into configurable invoices to pay salaries or bill customers, investors.
Tracklify pursues an idea to do more with fewer features and spend less time on managing and learning the tool. This tool has much fewer complex features and integrations than many other tools mentioned above but it simplifies management and forces members to follow the right agile flow without spending extra effort on learning.
The Takeaway
Project management software can be highly useful when it comes to organizing your data. Using any one of the above-mentioned software, you will be able to manage your tasks and teams in a simpler way.
employees at computers -DepositPhotos