With the 'Gift of the Gab' The Irish Were Great Social Networkers Long Before Facebook Or Twitter
Ireland has the unique distinction, for a small island of just 4 million souls, of having up to 80 million people globally, claiming to have Irish heritage. 40 million of these are based in the US. The UK alone has nearly 1 million first generation Irish-born people and 5 million with a direct Irish relative. 
For many centuries the Irish have had to emigrate beyond this small island and adapt to different cultures, in many distant lands.  In the process, we have developed  great Networking skills. Perhaps this is helped by our ' Gift of the Gab, but we seem to have a genetic propensity to excel socially.
Wherever we find ourselves in the world, our natural ability to Network helps the Irish to adapt to new environments.
10 of the Top International Irish Networks  
Related: Darragh Doyle of WorldIrish.com Talks To Bloggertone TV
These great networks are promoting Ireland globally to help the Irish people through their current economic challenges.  This combination of the Irish in Ireland and the Irish Diaspora globally, have the potential to unleash immense powers of creativity and energy, in the arts and business worlds.
Great Initiatives that will help Ireland's Economy – through active Networking :
A year-long celebration of Ireland, its people and our impact on the world – Be Part of It!   This initiative, facilitated by Irish state agency, Tourism Ireland, aims to attract 300,000 visitors to Ireland to help boost the economy and  have a lot of fun at the same time !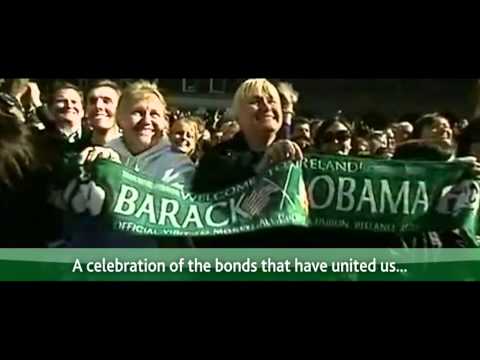 Related: Ireland And The Business Of Holidays – An Interview With Niall Gibbons Of Tourism Ireland
Earn money for yourself or your favourite charity, by creating jobs in Ireland. The ConnectIreland mission is to attract companies that are expanding internationally, to locate in Ireland and create new jobs in the Irish economy.  They have been appointed by the Irish Government and IDA Ireland as part of the Irish Government's Action Plan for Jobs.
Related: How To Be Irish On St Patrick's Day. Even If You're Not!
Choosing  just ten networks from so many great Irish Networks is challenging.  Some of the notable exceptions are Tangible Ireland, Irish Arts, Performance & Heritage Network,  Irish Abroad,  Irish American Business Chamber Network-Philadelphia,  Irish Business Organisation-NY, London Irish Business Society, IN-GB, Irish Business Network-Germany, Lansdowne Club-Sydney, Irish Club-Moscow,Russia and Le Cheile-Shanghai, China.
Please feel free to introduce your own favourite Irish International Networks below. 
Did you like this article? Sign up for our RSS, like us on Facebook or follow us on Twitter
Image: thegatheringireland.com